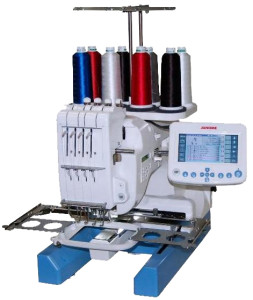 Overview
"World's First" Home-Use Four-Needle Embroidery Machine.
Janome Sewing Machine MB-4
We've taken everything you love about Janome embroidery and quadrupled the capacity! With our four needle machine, you can set up your embroidery and move on to other projects while the MB-4 gets it done. The MB-4 is built to work with most embroidery formats, including those used by industry professionals. It is compatible with six industry-standard Tajima hoops, as well as the four available Janome hoops to further expand your creative opportunities.
Specifications
Single Hear 4-Needle Embroidery Machine
DB Rotary Hook (Full Rotary)
Number of Needles: 4
Type of Needles: DBxK5Q1NY #11
Cylinder Shape of Bed
Skeleton (Clam Shell) Body Construction
Machine Size: W365 x H640/(440*) x D520 mm
Bed Width: W299 x H130 mm
Machine Weight: 20.5 kg
Packing Size: W450 x H620 x D660 mm (*1)
Gross Weight (incl. Packing): 29 kgs (*1)
DC Motor
Max. Speed: 800 spm
Low Range Speed: Up to 400 spm
Bobbin Winding Speed: 2,000 rpm
Machine Control: By RCS (option) or Sub-Control Panel
Sub-Control Panel: LCD with Back-Light (H12xW63mm)
Mode Key (*2)
OK Key
4 Jog-Keys
Forward/Reverse Stitch Keys
Forward/Reverse Stitch Keys
Lay-in Thread Tension (Manual Adjustment)
Independent Bobbin Winding (with Independent Start Button)
Built-in Auto Thread Cutter (needle & bobbin threads)
Upper Thread Holder Spring on the Face Plate
Thread Cutter for Bobbin Winding
Direct PC-Link
Embroidery Format Compatibility: .jef+/.jef (Janome) & .dst (Tajima)
Resumption Setting/My Set (with RCS)
3 Hoops
White LED x 4 Sewing Lamp
Start/Stop Key (on RCS and Sub-Control Panel)
Manual Thread Cutting Key
Upper thread Breakage Sensor
Spool Stand (incl. 1 for Bobbin Thread & 4 Additional Spool)
Brochure Download Janome MB-4       Manual Download Janome MB-4