a) Demos and Exhibition of Creative Sewing Art
Exhibit a collection of creative and artistic ideas sewing from within and outside the country. Various categories of exhibition give visitors an idea of products to produce quality products, artistic, unique and valuable. To open visitor's minds – sewing field is not only for sewing clothes, but can sew various necessities of life, as well as providing opportunities to generate income.
Recycling Corner – Working with apron used to be shirt & jeans used to be a treat bag. Among other things, adopted the banner wasted in the production of various bags.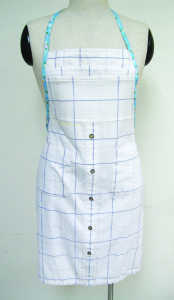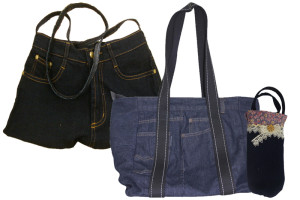 Apron from used Shirt                       Bags from used Jeans
Photo Quilts Corner – shown a demo how to produced photo quilts.
Corner of Soft Toys and DIY Kids Can Sew – This part provides experiences and opportunities for the little ones to learn to sew using Sew Mini sewing machine. Two simple projects are taught and monitored by trained instructors.
The Art of Batik Corner – Lifting the uniqueness of Malaysian batik art an heritage from generation to generation. See how Batik can be applied to a variety of needs that can accentuate the Malaysian identity.
Patchwork Corner – A creative, unique and beautiful patchwork collection from quilt makers which revenue from overseas. This includes tens of patchwork of art wall hangings, bags, clothing and articles.
Corner of Sewing Machines – Visitors have the opportunity to see the greatness of Janome sewing machine functions such as multi-purpose machine, edging sewing machine and embroidery machine.
Corner of Software Collection & Embroidery Machine – Specially counter for fans of embroidery machine. Offer price is so worth it for the Epal customer.
Fabrics & Accessories Corner – Selling all kinds of fabrics and accessories for the visitors.
Fabric Corner – a demo shown a printed fabric, decorate a mirror session, quilting & coloring, fabric art and 10 minutes table runner.
Quilting & Coloring                                                      Decorate a Mirror
Clothing Corner – Various types of patents and fashion clothes were displayed. All patents and fashion clothes was DIY which uses quilting sewing techniques, patchwork, mola, bobbin work and others.
Corner of Bag – There are more than 200 types of bags collection produced by a DIY sewing. Each bag joined with booster function, space and different materials for various needs of the users and for different occasions.
Home Decor Corner – See how the art of creative sewing can be able to excel a great and artistic to the residential space.
Desk Decor Corner – Various unique idea for guests desk space, especially the kitchen. Retrieve out why the need of tissues, newspapers and plastic should be replaced with fabric.