COMPANY PROFILE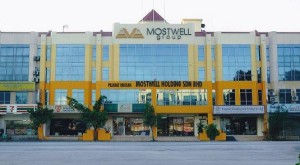 In 1987, with small capital and few man powers, Mostwell was first established as sole proprietorship selling of electrical appliance in door to door business method. With the encouraging business growing rate, Mostwell was transformed to Mostwell Sdn Bhd in 1989.
Foreseen the potential development of sewing industry and the unique business concept, the management had decided to establish one-stop service training center called "Epal Handicraft Training Centre".
The first training center was established in Kota Raya in 2001 to offer creative sewing courses such as sewing shirts, patchwork, quilting, appliqué, embroidery and decoration to the community. Mostwell believes a sustainable business through a responsible development to provide high quality services to customers; we provide various creative DIY sewing courses, varieties sewing accessories & notions. highly esthetical sewing products to meet customer's requirement, high technology and quality sewing machines with multiple functions; leisure and comfortable sewing environment for customers.
In 2004, Mostwell successfully acquired the sole agent distributorship of "Janome Sewing Machine Co Ltd, Japan in Malaysia. The world No.1 household sewing machine manufacturer.Janome is the largest sewing machines manufacturer in the world and the first company created computerized sewing machines in the market.
With the fundamental aims to provide happiness; one-stop service and convenience to every customer of Mostwell, we have 16 centers located in the major cities in Malaysia including East Malaysia as follows.In view of the tremendous growth of business, we have expended our business to Indonesia with the establishment of 2 training centers located at North of Jakarta and South of Jakarta respectively.
For the pass years, Mostwell has been working thoroughly in promoting and create public awareness of sewing art to Malaysia community. We are aggressively organized many sewing exhibitions in the mega shopping mall in Kuala Lumpur and other major cities.Mostwell is passion to perform its Corporate Social Responsible (CSR) by organizing variety of sewing programs to lend a helping hand to the needy such as single mothers, poverty families, the orphanage etc.  The objective of these sewing programs is to provide sewing training to the unlucky society in order to raise their standard of living with sewing skill. Mostwell is continuing committed to its CSR benefits to the community and build a harmony society.
Mostwell is planning to set up Mostwell Academy to provide skill training in sewing and has obtained the approval from the Department of Skill Development, Ministry of Human Resources Malaysia.  We are the first academy in Malaysia to offer a full syllabus in the art of creative sewing. It offers the Malaysian Skills Certificate (SKM) in Creative Sewing Maker (Level 1) and Creative Sewing Senior Maker (Level 2).  The duration of each level is 6 months.
Besides that, Mostwell has been working closely with KDSM (Koperasi Dagang Seni Malaysia Berhad) to offer entrepreneurial opportunity to those who intend to get into sewing business by implementing the Program Home Based Business. Under this scheme, the participants especially housewife will be able to run the sewing business at home to increase the household income and also take care of their family simultaneously.
Mostwell is a unique business with a social consent for its people; we ensure every customer who participates in our sewing courses is satisfied with their sewing works and we encourage them to develop their passion through sewing works and giving away their sewing products to their beloved family. This is fulfilling with our mission to empower people to build happier and wealthier homes through creativity in the expression of love and vision – every home a satisfied and happy Mostwell customer.